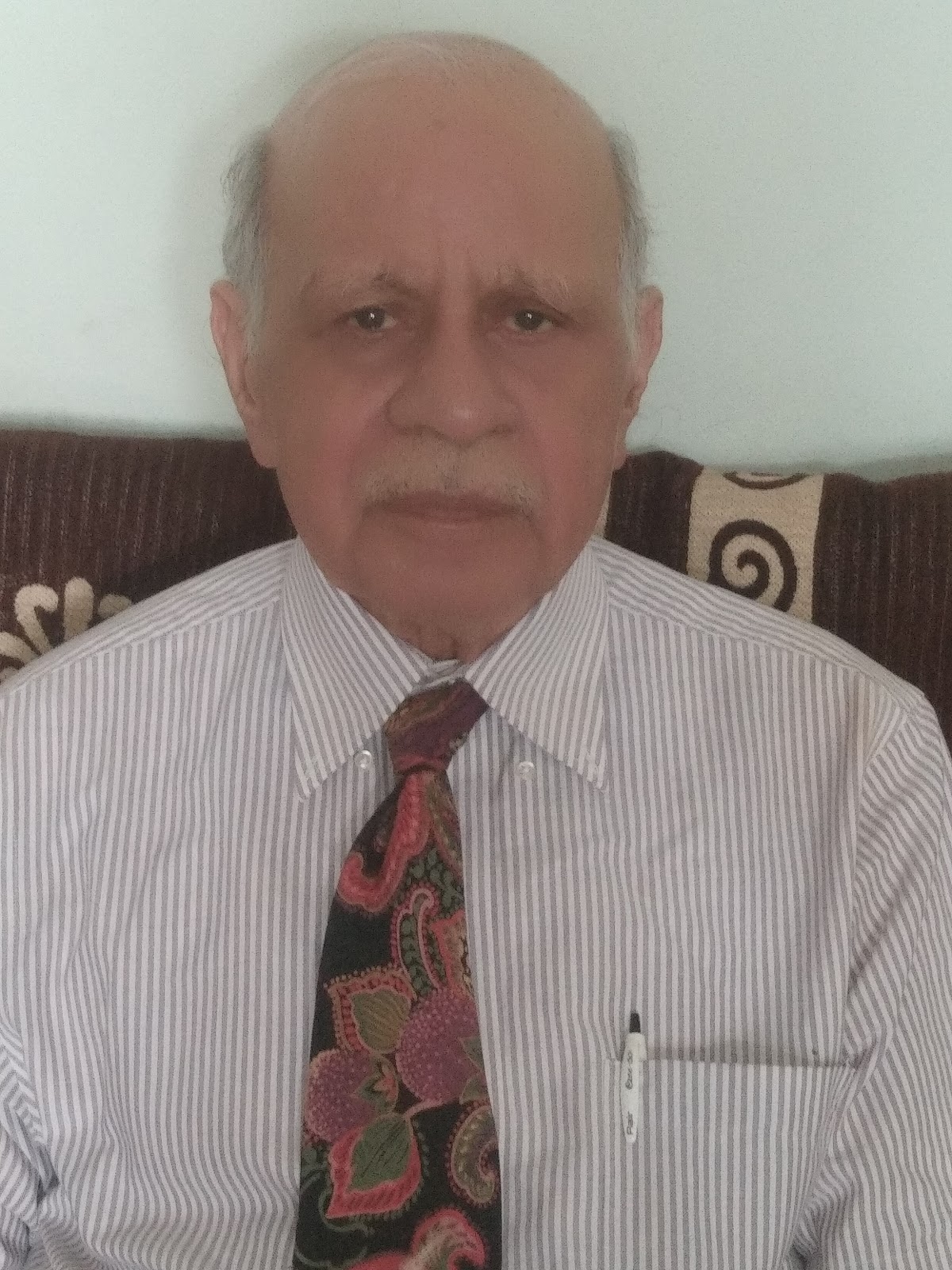 The first President of Hindu University of America and the founder-President of WAVES (World Association for Vedic Studies), Shri Bhudev Sharma, attained sadgati. Om shanti!
We are sad to inform, that Dr. Bhudev Sharma, the first appointed full-time President of HUA, has breathed his last in India on April 23, 2021, at the age of 82.
Bhudev ji, as he was popularly known, served as the President of HUA during 2001-2002 and remained a member of the Board of Directors for more than 10 years. During his presidency he chose to live on the campus of HUA, so that maximum attention could be given to the newly acquired campus of HUA.
Born on June 23, 1938 in Bijnor – U.P., India, Bhudev ji had a very rich career both professionally and as a devoted Hindu. An M.Sc. Ph.D. from Delhi University, he was a Professor of Mathematics from 1957-2002, and had taught at University of Delhi, University of West Indies, Trinidad, Xavier University of Louisiana, New Orleans, USA, Clark Atlanta University, Atlanta, USA, and JIIT, Noida. He has, on invitation, visited Canada, Germany, Russia, China, Japan, Brazil, France, Greece, Italy, England, Poland, and many more countries. He published over 160 research papers in international journals, authored 23 books, and guided 28 Ph.D. students who are in India, USA, Brazil, West Indies, and Canada.
Besides mathematics, Bhudev ji worked for Vedic/Indian studies and Hindi. He spent 9 years in Trinidad, where he was the founder and President of Bharatiya Association of the Caribbean; wrote the book 'Videshi Hindi Primer' for teaching Hindi via English medium in schools; introduced Hindi in schools of Trinidad; succeeded in creating a Hindi chair at University of the West Indies and founded of a strong body 'HINDI NIDHI' that still works for Hindi. During his 20 years stay in America, he incorporated the Hindu Educational And Religious Society of America, New Orleans, edited and published a quarterly Hindi magazine 'Vishva Vivek; wrote 'A Complete Book of Hindu Poojas, Bhajans, Stotras, and Arties', widely used in Hindu temples and families in USA.
Bhudev ji was also the founder and President of the World Association for Vedic Studies (WAVES), USA, from 1996 to 2005, and under his inspiring leadership WAVES - USA organized International Conferences in 1996 (Atlanta), 1998 (Los Angeles), 2000 (New Jersey), 2002 (Dartmouth, Maryland). WAVES continues to be a major platform for publications on Vedic studies. He was also the chief editor of many proceedings of WAVES conferences during his tenure. He was the president of Hindu Educational & Religious Society of America (1991-2021); he edited the proceedings: 'Revisiting Indus-Sarasvati Civilization & Ancient India', 'New Perspectives on Vedic and Ancient Indian Civilization, and 'Contemporary Views on Indian Civilization'.
In India, he founded 'Janki Prasad-Shanti Devi International School' in his birth village – Bankpur, Bijnor, UP, affiliated to CBSE in 2009, and 'Kusum Sharma International Women College' in Bhoorbaral Meerut, affiliated to CCS University, Meerut in 2019. Bhudev ji also authored, 'Ganitagya: Srinivas Ramanujan' (in Hindi) and edited 'Hindi Vishwa-Kosh' for the Central Institute of Hindi of the Ministry of Human Resource Development, India.
Bhudev ji won several awards and honors for his work in promoting Vedic Studies and Hindi. In 2003 Shri Atal Behari Vajpayee (the then Prime Minister of India) conferred the Hindi Videsh Prasar Samman, constituted by UP Hindi Sansthan, Lucknow. He also received 'Agastya Award' of Mauritius Ramayan Centre, Mauritius; 'Ved Ratna Honour of Vedic Cultural Awareness' award by Indo-UK Intellectual Forum, London, UK. On December 11, 2017, Shri Pranab Mukherjee, the honorable President of India, felicitated him as the 'Visionary EduLeader of India.'
His ex-colleague from WAVES, Shri Dhiru Shah ji, the current Treasurer, has this to say about his work style: "We worked together in organizing WAVES international conferences in the USA till he was President of WAVES. He was a great intellectual with deep knowledge of [the] Vedas. He was a dedicated, sincere, and hardworking person who took care of the minutest details including venue, meals, audio, guest speakers and publicity. Bhudevji also edited all the conference papers and got the proceeding books published in India. During the time he lived in Atlanta, we used to meet often and discuss how to expand the activities of WAVES in the USA, India and other countries. His passing away has left a great void amongst the WAVES community."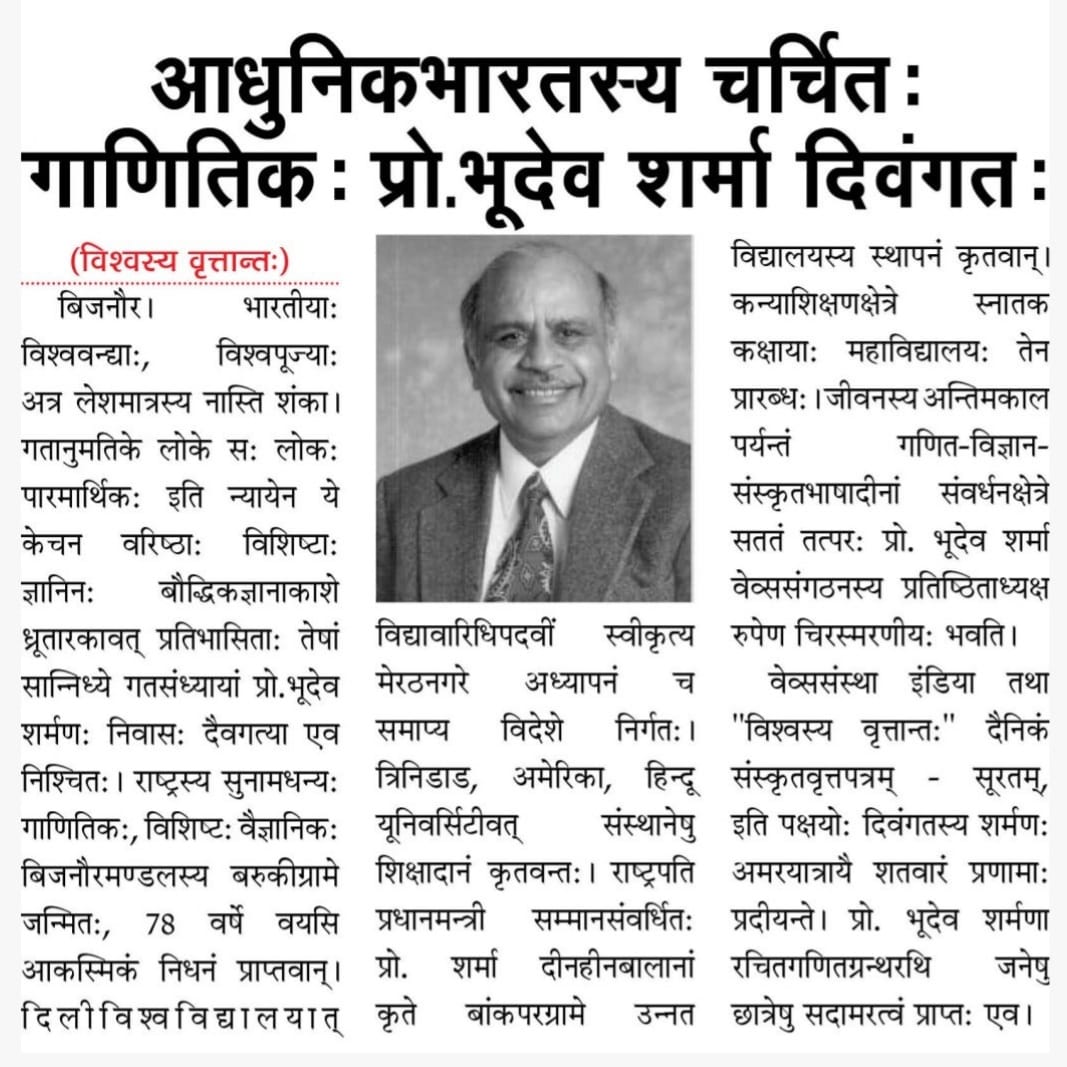 His obituary in Sanskrit.
The HUA family joins the WAVES community in offering its condolences to the wider Hindu community for the loss of this great soul. We pray that Bhudev ji's ātma attains sadgati.
Om Shanti!