Hindu University of America awarded its very first batch of Master of Arts in Sanskrit Degrees, along with other Doctoral Degrees in Hindu Studies and Yoga, to 12 of its graduating students at a Graduation Ceremony on Saturday, September 18, 2021 at the Marriott Marquis, Times Square, New York. In addition, Hindu University of America awarded an Honorary Doctoral Degree in Hindu Studies to Padma Bhushan Shri Anupam Kher.
| | |
| --- | --- |
| Name | Degree |
| Anil Vashistha | Master of Arts in Sanskrit |
| Chandramouli Mahadevan | Master of Arts in Sanskrit |
| Chandrasekhar Pandyaram | Master of Arts in Sanskrit |
| Haridas Radhakrishnan | Master of Arts in Sanskrit |
| Jayanthi Hari | Master of Arts in Sanskrit |
| Padmanabhan R. Venkataraman | Master of Arts in Sanskrit |
| Radhika Satveli Goel | Master of Arts in Sanskrit |
| Uma Nagarajan | Master of Arts in Sanskrit |
| Siva Sankar Prasad Viswabrahmana | Master of Arts in Sanskrit |
| K. Kathirasan | Doctor of Philosophy in Yoga Philosophy and Meditation |
| Yogacharya Dr. Sambasiva Reddy Korrapolu | Doctor of Hindu Studies in Yoga Philosophy and Meditation |
| Satyabrata Dash | Doctor of Philosophy in Hindu Studies |
| Anupam Kher | Honorary Doctor of Hindu Studies |
The event began with bhajans and Vedic chanting and an address by the Chairman of the Board of Trustees, Padma Bhushan Professor Ved Nanda. He welcomed and commended the graduating students as well as the chief guest of the event, Shri Anupam Kher. Dr. Nanda said that America was very receptive to Hindu ideas and thought, and that he was confident that Hindu University is on its way to fulfilling the expectations of not only the immigrant Hindu community, but also of many other Americans. The students, who received their degrees to appreciative applause, spoke briefly but movingly about the gift of knowledge that they had received from their teachers and guides. The graduating class of MA Sanskrit students deeply appreciated the precious gift that they now possessed, i.e., a direct access to the Shastras that contained the Hindu knowledge systems.
The graduating students enumerated in the table above, Zoomed in along with over 100 family members, HUA supporters, and even Padma Bhushan and Chair of the HUA Board of Trustees Ved Nanda.
Swami Sarvapriyananda, the resident Swami and head of the Vedanta Society of New York City, was also a featured speaker at the event. He spoke about the need for the 'Hindu community to build institutions that can transmit Santana Dharma systematically to the next generation of Hindu Americans.' He added that 'Hindus in North America have been great temple builders… but the younger generation is interested in the meaning and philosophy behind the rituals… it is good that Hindus have made large donations to Harvard and Columbia, but when you make a contribution to Hindu University of America, it is a matter of great merit, (punya), and you will be contributing to the protection and transmission of this Dharma - without making such investments, we run the risk of losing an entire generation to meaninglessness and rootlessness'.
The President of Hindu University of America, Shri Kalyan Viswanathan acknowledged the graduating students of the university. He read out the Mission and Vision of the University, laying out the need for protecting this small emerging university. He recalled how near his ancestral hometown, there is this great temple for Shiva, called the Brighadeeshwara Temple, in Tanjore, Tamil Nādu. He said, 'This temple has stood for more than 1000 years and will probably stand for many 1000's more' and wondered if 'we too could imagine building a university that could live for more than 1000 years?'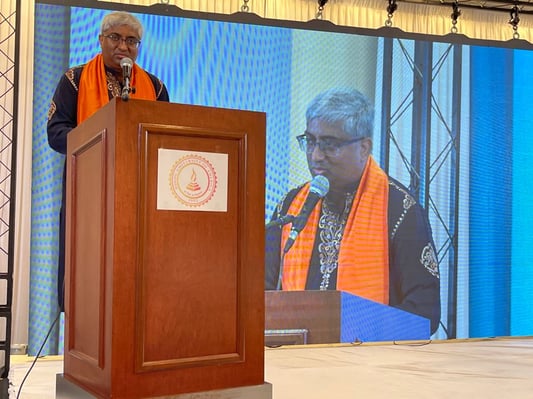 Shri Kalyan Viswanathan, President of HUA
Dr. Jashvant Patel, Member of the Board of Trustees of HUA, and the Chair of the Finance committee of HUA, conferred the honorary Doctor of Philosophy to Shri Anupam Kher, and recognized his extraordinary contributions to the world of art, films, and culture, and in particular to world cinema. Dr. Patel spoke of Shri Anupam Kher's courageous and righteous stand for Hindu philosophy and thought, adding that 'the world may not know this – but Anupam Kher began his life in great adversity when he and his family had to leave Kashmir valley under difficult circumstances and start life afresh in a new town. And his journey from Shimla to Chandigarh, to Mumbai, and then to USA, is a true inspiration for millions of people worldwide.'
Dr. Padma Bhushan Anupam Kher who attended the event in person in New York City said 'I am honored and humbled to be awarded this honorary Doctoral degree from Hindu University of America and I accept it with pride.' He added that 'I am a proud Hindu, because in thousands of years, Hindus have never invaded any other country – India has never colonized any other country through military dominance – and even though many hundreds of thousands of my fellow Kashmiris were forced to live in refugee camps, it is due to the Hindu philosophy of non-violence that no one picked up a gun or any weapon to settle any scores through violence. We believe in resurrecting our lives by resurrecting our minds.'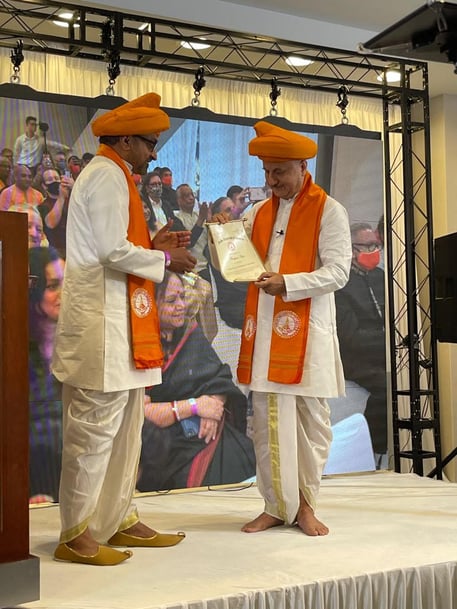 Dr. Jashvant Patel Chair of Finance Committee and Dr. Anupam Kher
Established in 1993, Hindu University of America is a School of Theology, offering a Master's and Doctoral Program in Hindu Studies, and a Master of Arts in Sanskrit. In addition, it offers a variety of Certification and continuing education courses. In the Fall 2021 quarter beginning in the first week of October 2021, the university has announced more than 30 courses. After enrolling more than 500 students in each of the past 3 quarters, HUA anticipates sustained growth over the next year.