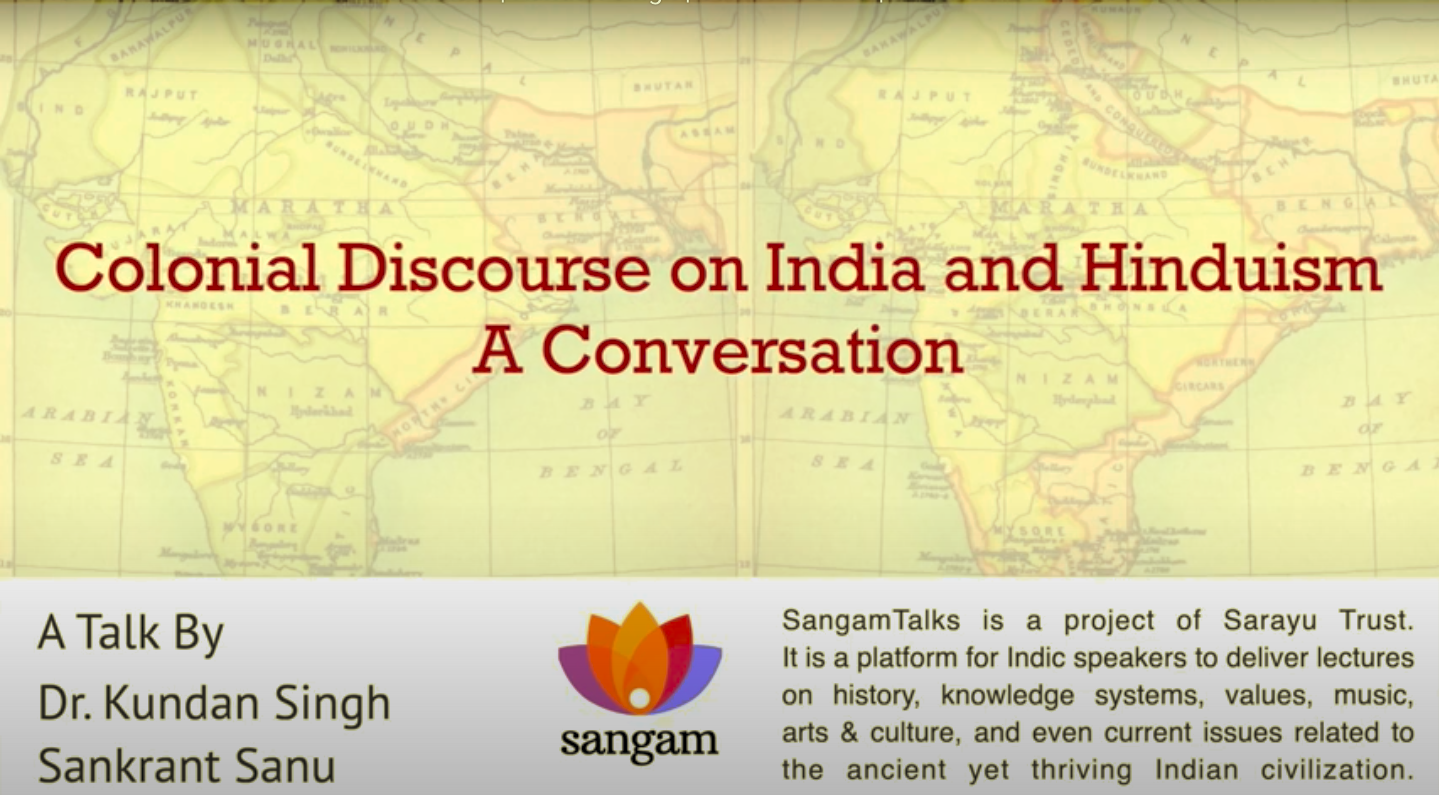 A talk by Dr. Kundan Singh and a subsequent conversation with Shri Sankrant Sanu, hosted by SangamTalks.
Colonialism is not about economic exploitation and exertion of political power alone, it involves a tremendous "transformation' in social and cultural sphere through the process of generating literature on the colonized and then pumping that "knowledge" into the consciousness of the colonized through the establishment of institutions and universities. If one surveys across the world the literature on the colonized, one finds that misrepresentation and demonization of the colonized by the colonizer was the master note. This served two ends: 1. Justification of the colonial rule so that the bureaucratic machinery believed in its "civilizing mission." 2. Consent of the colonized for seamless and exploitative governance. Consequently, the colonial British have left an intellectual legacy through literature, universities and institutions which has not been sufficiently examined critically by mainstream academia—either in India or abroad. The insidious and nefarious colonial discourse on India and Hinduism continues even today, albeit in politically correct ways, and gets replicated at various levels in mainstream academia across the world. This talk will specifically focus on the colonial legacy in American schoolbooks, making explicit the reasons why the Indian American community has been clamoring for change.
About Speakers -
A former core faculty with Sofia University, Palo Alto, California, Kundan Singh, PhD is currently a core doctoral faculty with the Hindu University of America, Orlando, Florida where he is developing a new field of study titled Postcolonial Hindu Studies. He is also the Vice President of the Cultural Integration Fellowship in San Francisco and Senior Fellow at Hindupedia, Cupertino, California. Author of the Evolution of Integral Yoga: Sri Aurobindo, Sri Ramakrishna, and Swami Vivekananda and numerous book chapters in edited books, and joint author of Making Children Hinduphobic, he has lectured extensively in San Francisco Bay Area and has many academic presentations at international and national conferences to his name.
Sankrant Sanu ji is an entrepreneur, writer and researcher based in Seattle and Gurgaon. His areas of interest include history, religious and cultural studies, entrepreneurship and technology. Sankrant has been actively involved in writing, consulting and social projects. His writings have appeared in various publications in India, USA and UK.

Disclaimer : The description above has been borrowed from the youtube link given above. It has been used for the purpose of sharing only. We do not claim any rights on the description or the video. The video was shared with us by the primary speaker Dr. Kundan Singh.